"Max und Moritz" Award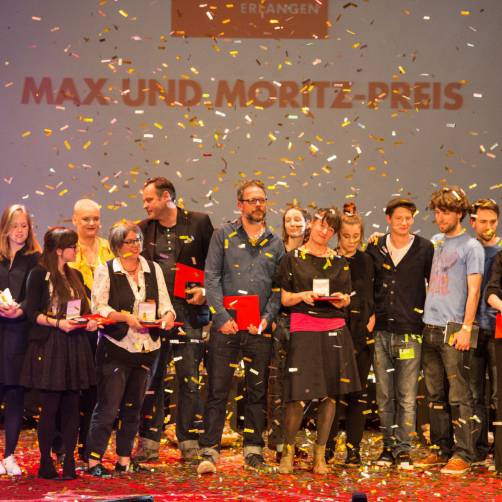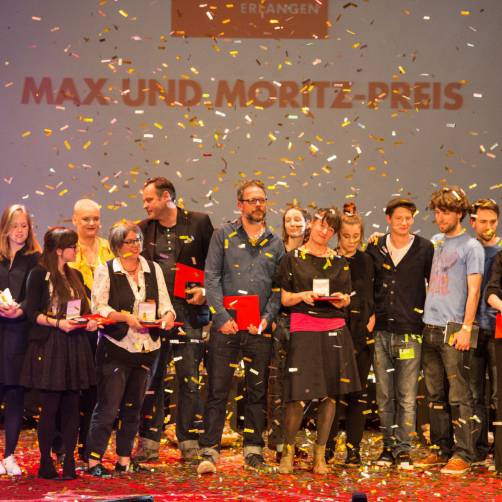 © Georg Pöhlein
The "Max und Moritz" Award, is the most important award for graphic literature in the German-speaking area. It is awarded biannually in the course of the International Comic Salon by an independent jury of professionals, appointed by the city of Erlangen, and has played a decisive role for the artistic and social recognition of comic art for over 30 years. The award, which is conferred in the course of the Max and Moritz gala in Erlangen's Markgrafentheater, recognizes the work of outstanding artists acknowledges exemplary publishing and encourages the debate on graphic literature in general. In previous years the award for life­time achievement was presented to Albert Uderzo, Jacques Tardi, Alan Moore, Pierre Christin, Lorenzo Mattotti, Ralf König and Claire Bretécher.
In general the "Max and Moritz" Award is presented in the following categories:
"Best German-speaking Comic Artist" (5000 Euro endowment), "Best German-language Comic", "Best International Comic in German", "Best German-language Comic Strip", "Best Comic for Children", "Best Student Comic Publication" (1000 Euro endowment), "Special Jury Award", "Audience Award", and "Lifetime Achievement Award". An audience prize will be awarded for the fifth time in 2018.
While in session, the jury however reserves the right to reconsider these categories. The winner of the "Lifetime Achievement Award" is already announced prior to the award ceremony.